Release Notes & Updates
v 3.0.0.0024
Dec 01, 2021, 12:46 PM PST 
Templates 
Taking the no-code automation a step further with Templates. Now re-use and maintain test cases without recording screens again or writing scripts. What if you didn't need to create the tests again even when UI changes or want to A/B Test different UI's? Engineering teams end up creating a lot of test cases which mostly have repeated or common steps across different use cases and we wanted to further cut down the time spent on creating these. Read more on the update here.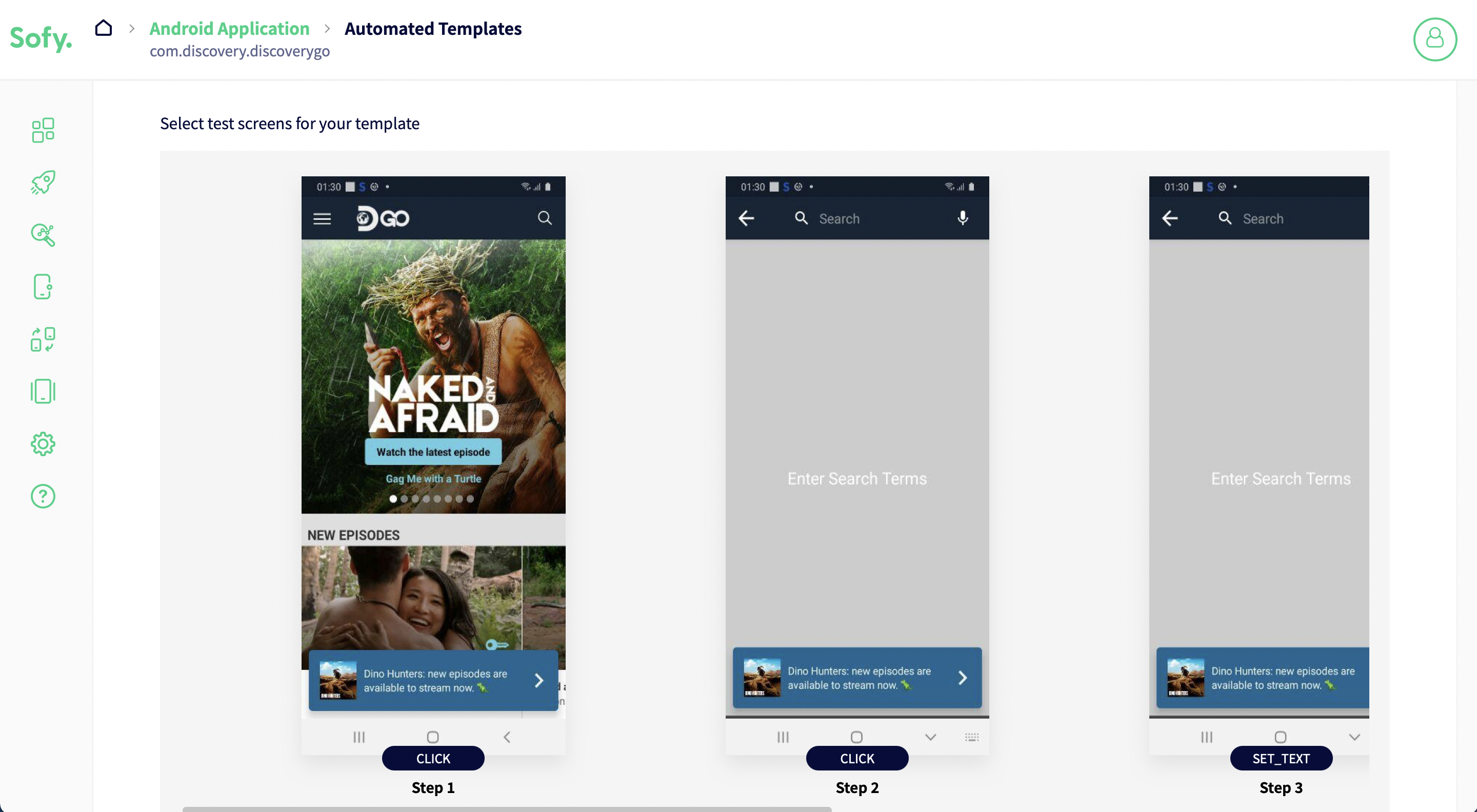 Android 12 Support  
Earlier this year, Google announced the next version of its mobile operating system. We have updated some of the Android devices in the Sofy Device Lab with Android 12 to enable you with maximum device coverage for your users and customers. Login to try. 
Mock GPS Location for Android Devices
Most apps today have location specific features, and engineering teams have no way to test those features from other than their own location. Now with Sofy device lab you can simply mask the location of the phone to wherever you want in the world and test those location specific features. Login to try.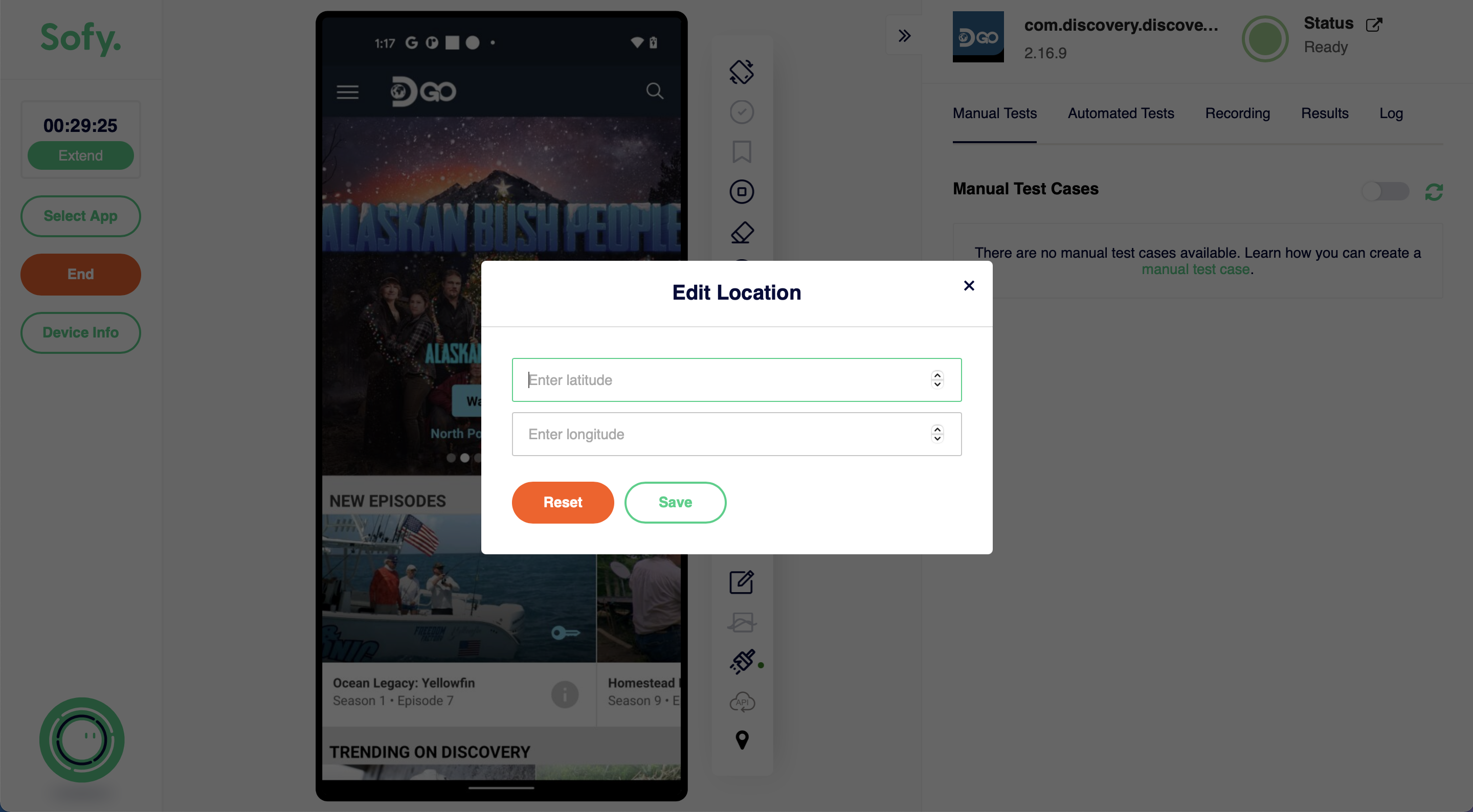 App Install Failure Reporting  
Sofy Device lab now comes with instant messages specifically showing the reason your app install failed on any of the devices. This removes the black box of errors and helps you figure out what exactly went wrong with the install so you can fix it immediately. Login to try.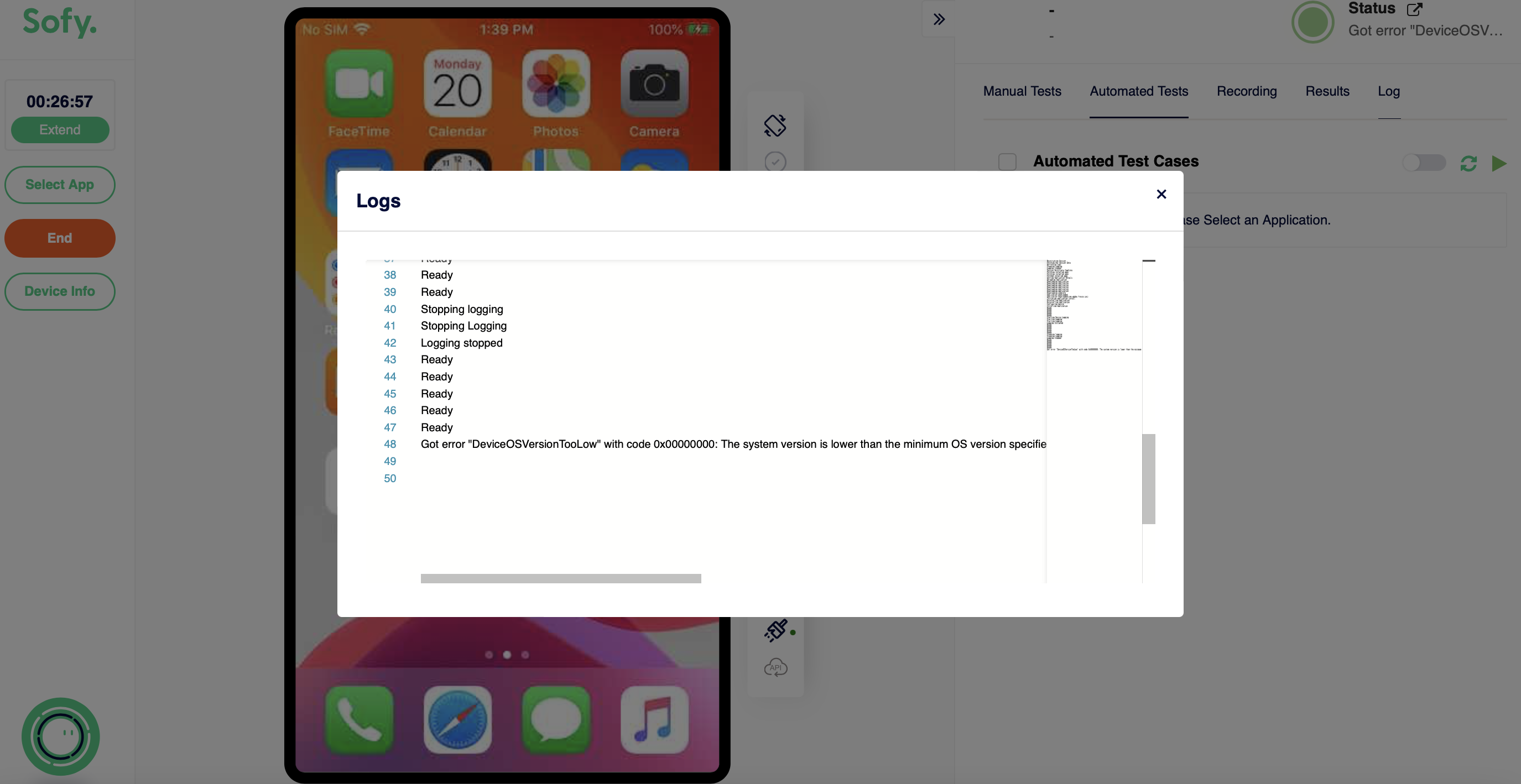 Other performance fixes and bug fixes across the product. 
-------------------------------------------------------------------------------------------------------
v 3.0.0.0023
Oct 04, 2021, 11:16 AM PST 
Edit Test Cases
Editing is one of the utmost important feature to scale automation testing. UI changes happen every now and then, and re-creating tests from scratch is painful. To help speed up test case maintenance, we are launching the ability to Edit Test Cases in Sofy.
Once you've recorded your scenario, make your way to the main portal, click on the 'Test Case' (1) option to view all your test cases, and then click on the edit icon (2).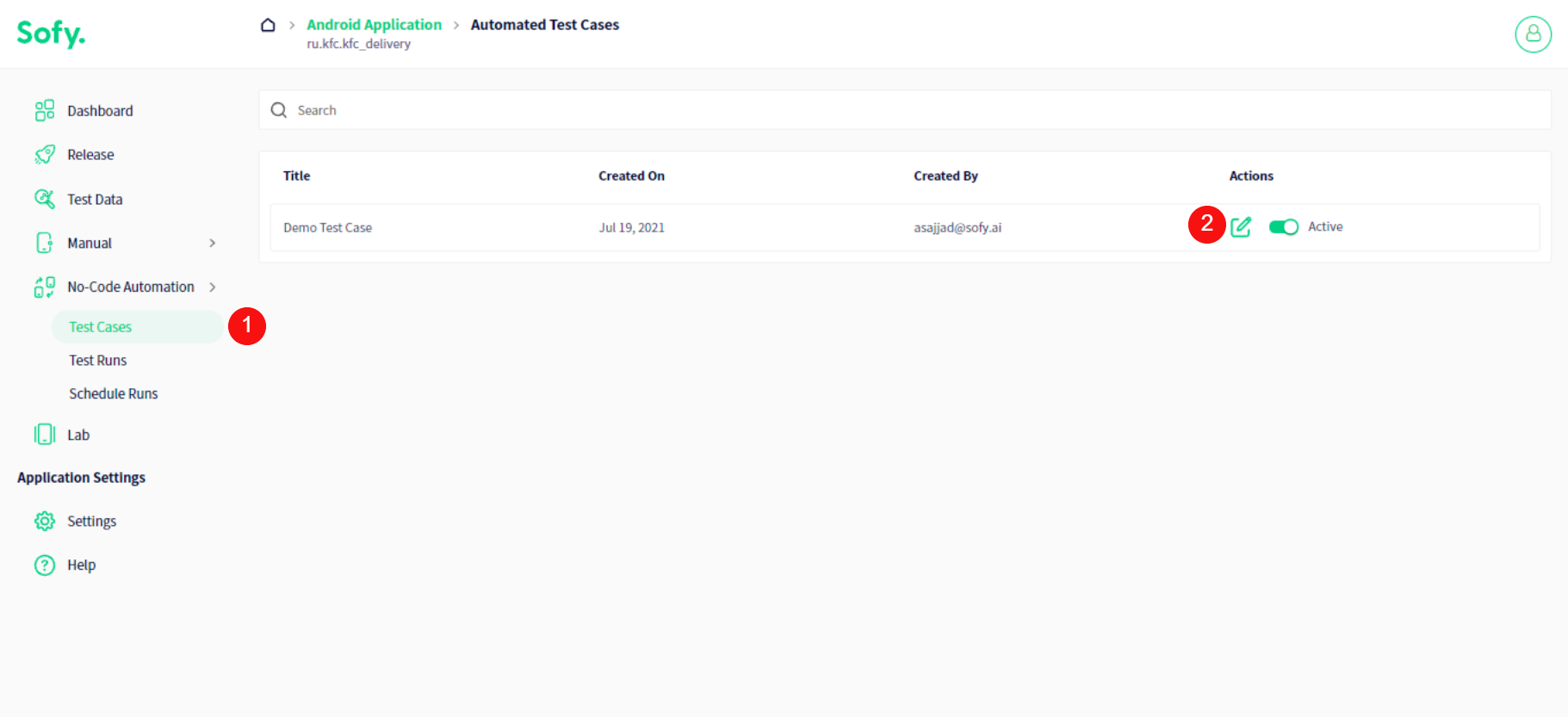 Upon doing so you'll be seeing our new UX design to make things easier for you and your test case editing efforts. For this instance let's assume you never wanted to select 'Estonia' and instead wanted to select 'Russia' for this particular test case. Well, not to worry all you have to do  is click on that screen (Step 1)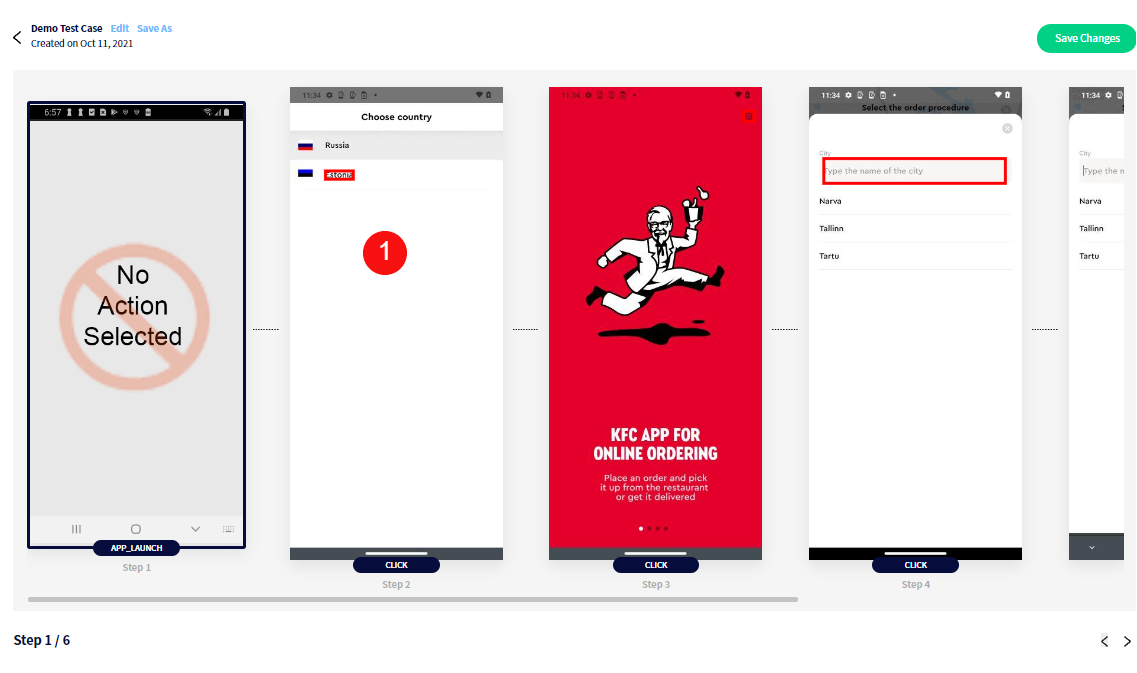 Once you click on it an Edit modal will open up,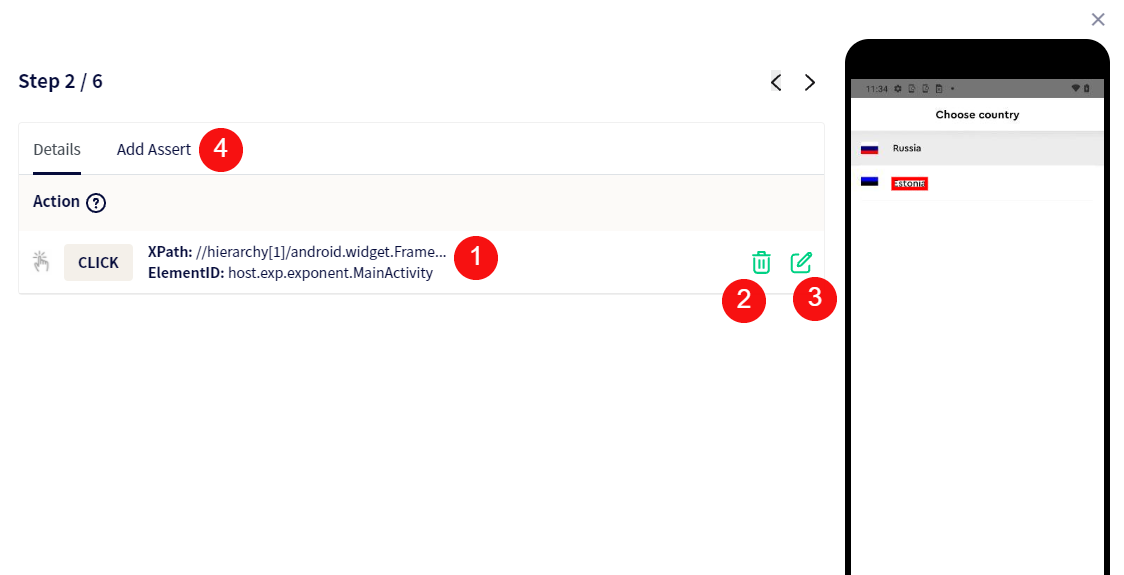 (1) You can view the information such as the 'Element ID' and the 'Xpath' itself so you can identify the element Sofy has detected and plans to perform an action on.
(2) In order to delete the performed action, you can click the trash can icon, resultantly this action will be removed from the test case altogether. 
(3) Clicking on the edit icon will enable you to change the action performed, lets see how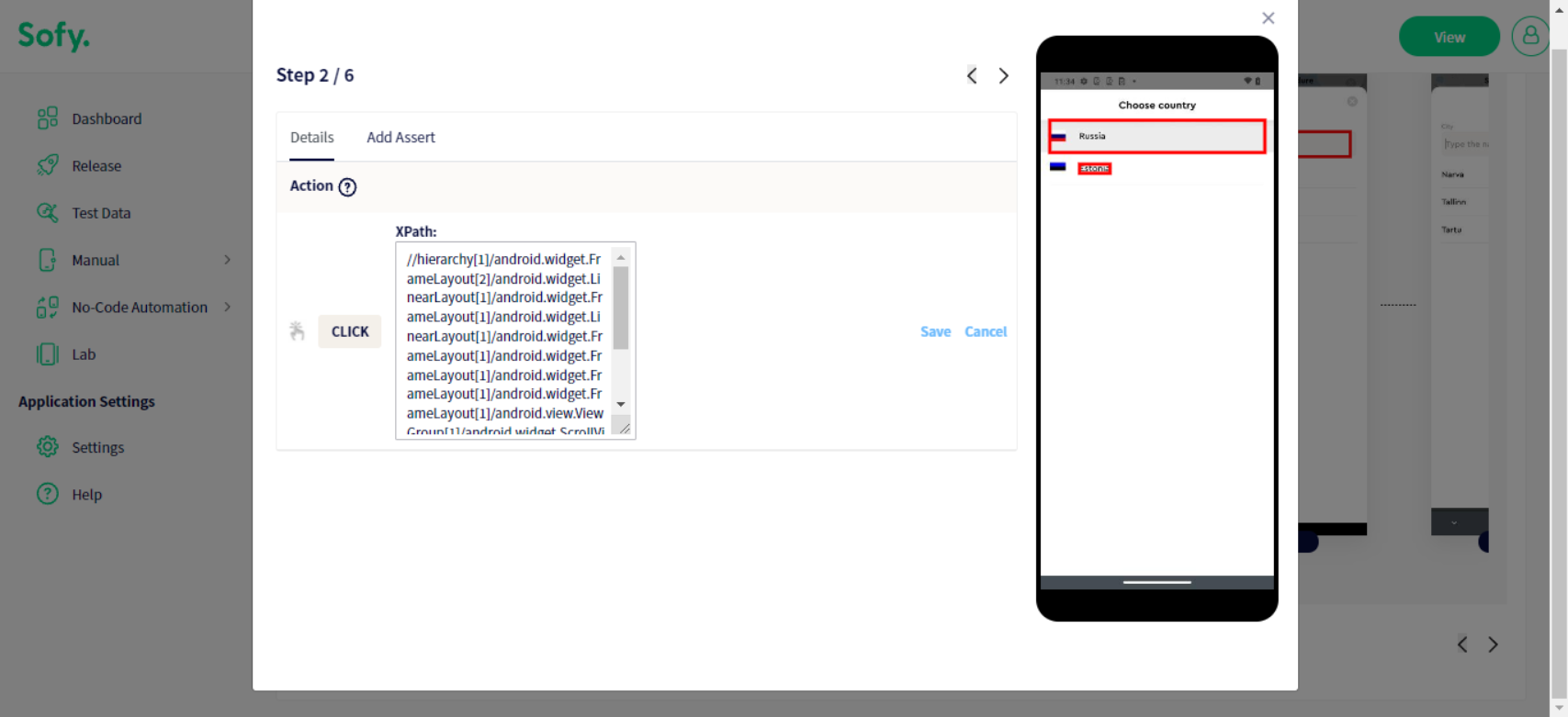 You can however over different elements and select a new element you want to interact with, In this case upon hovering over 'Russia' and clicking on it updated the action; make sure you click on the 'Save' button after. Moving forward, instead of clicking on 'Estonia' the click will be performed on 'Russia' during playback. 
You can also edit the 'Xpath' manually or add a new 'Xpath' directly by manipulating the Xpath field which will result in the selection of a new element on the device screen.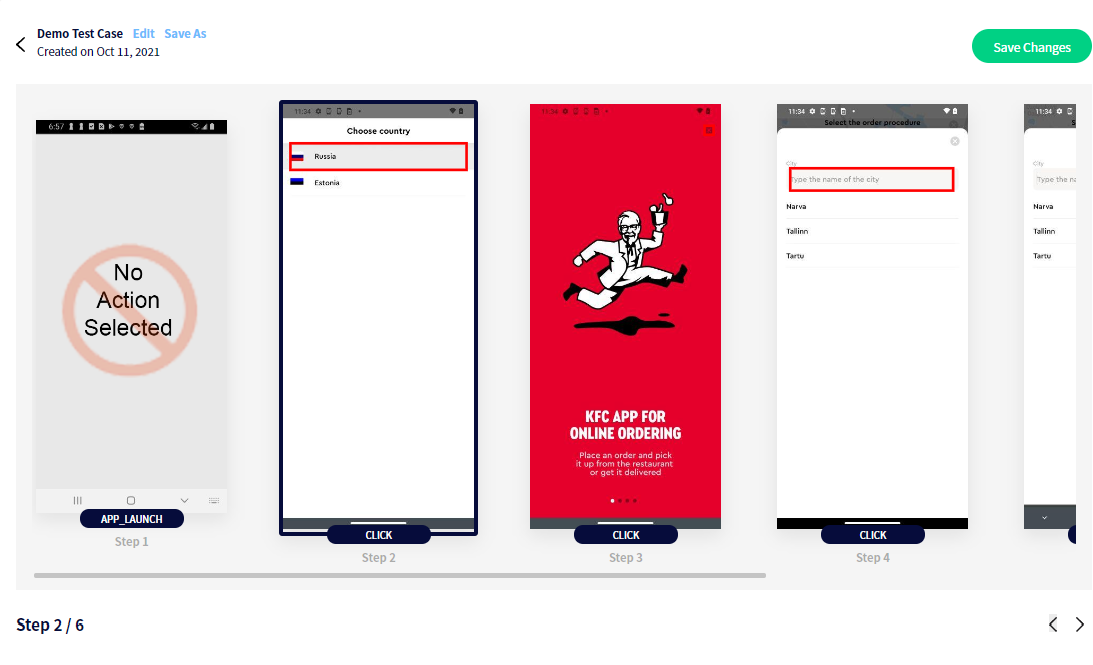 The action of selecting 'Estonia; has now been replaced by the action of clicking 'Russia'. Once you hit 'Save Changes' Sofy will update this change and you're all set. 
(4) You can also add an 'Assert' during the editing process, once you do another step will be added in the view.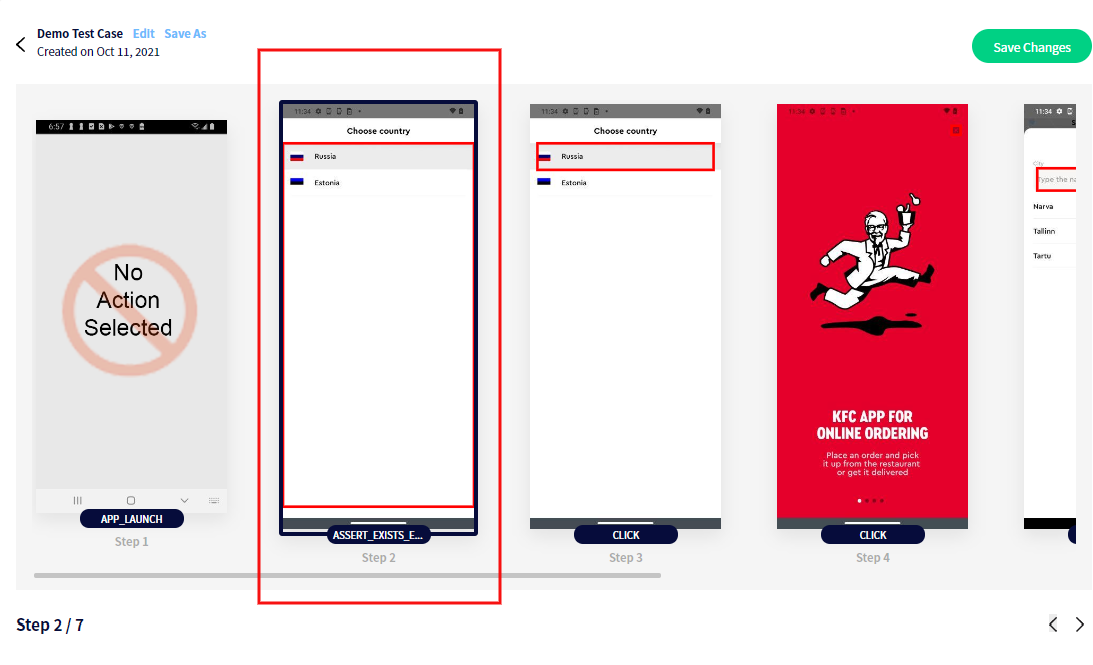 In case you want to maintain separate copies of the test case, keep the original and the edited test case in the test case repository you can click 'Save As' which will allow you to store the edited test case by a new name.
This feature also allows you to add static delays, in case of a delayed API response or waiting for an element to load. You can click here and select the time delay you want to add between two steps,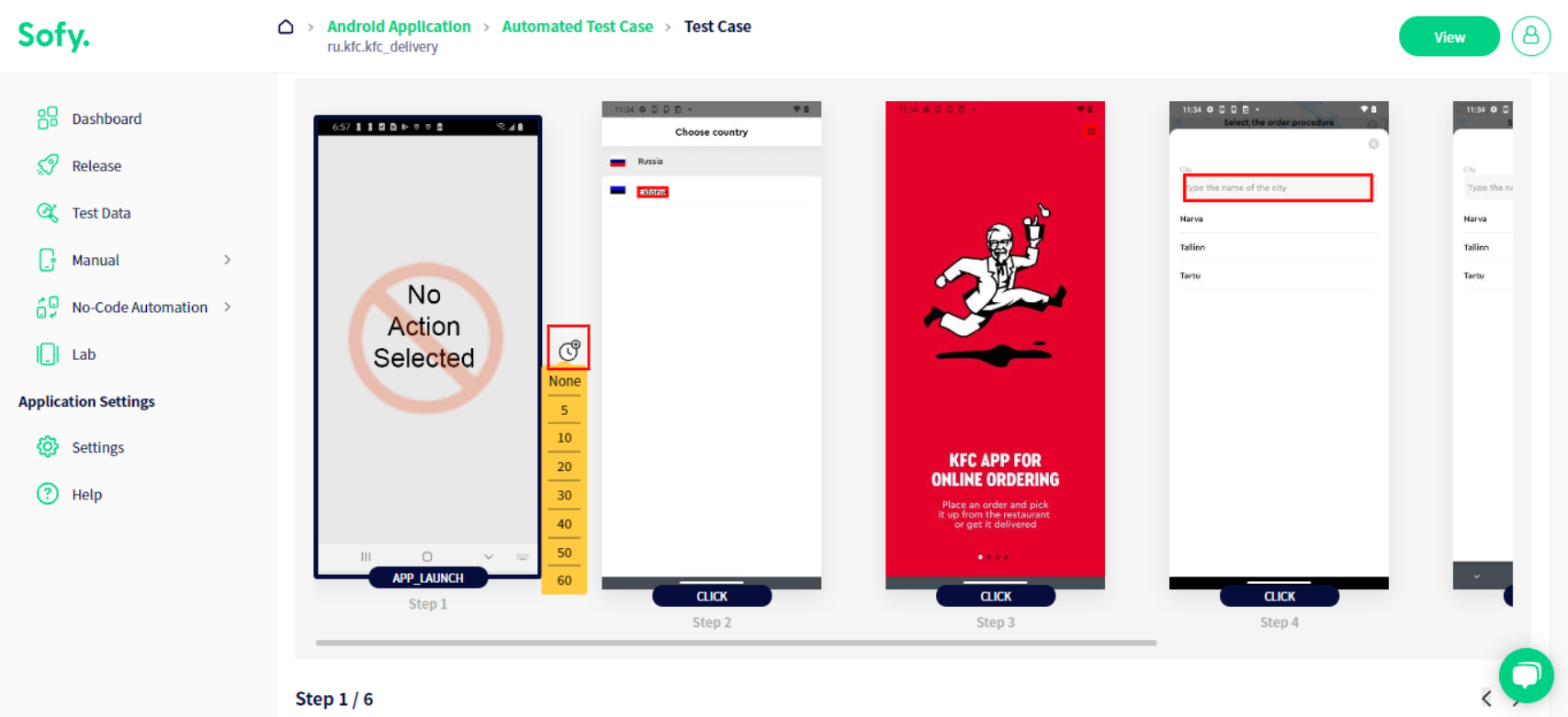 This delay will act as a buffer between two steps and will be performed by Sofy during playback.
API Testing
In the world of DevOps, we've got tools for API testing and integration, different tools for automation and we're not going to lie it gets overwhelming. Considering this, we at Sofy brainstormed over how we can be the one-stop solution for all your testing needs. On a mission to replace coded automation, we've decided to take it one step further, one step beyond what our clientele asked us for. We've added API support in our one of a kind automation feature. 
Once you've initiated the recording sequence, look at the bottom of the device pane to look for this icon,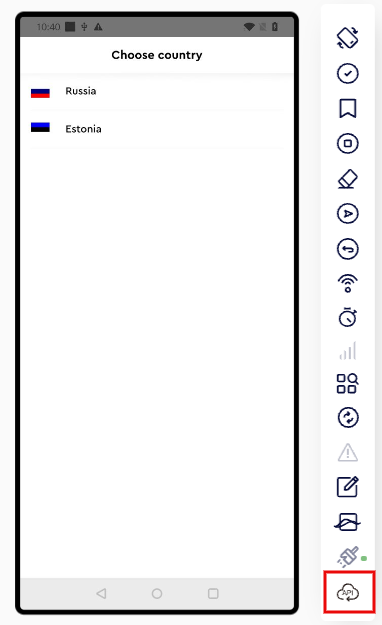 This icon fires up the latest API integration feature. This is going to trigger a modal that's going to look something like this.

1. This is where you can select from a variety of API calls such as GET, POST, PUT and DELETE. 
Once you're done selecting your desired method you can proceed to add a URL in the text field next to it. Before we hit that 'Send; button, however, we have to add the necessary headers to ensure our call works seamlessly. 
2. You can click on the '+' icon to add your header, fill in the 'Header Name' field on the left and the 'Header Content' Field on the right. You're all set now!
3. However, if you wanted to delete a header and don't have time to press that backspace key for long you can always click on the trash can icon and get rid of it altogether.
For calling methods such as POST you can also add a request body in JSON format and then press that shiny 'Send' button. Once you do here's what you'll be seeing.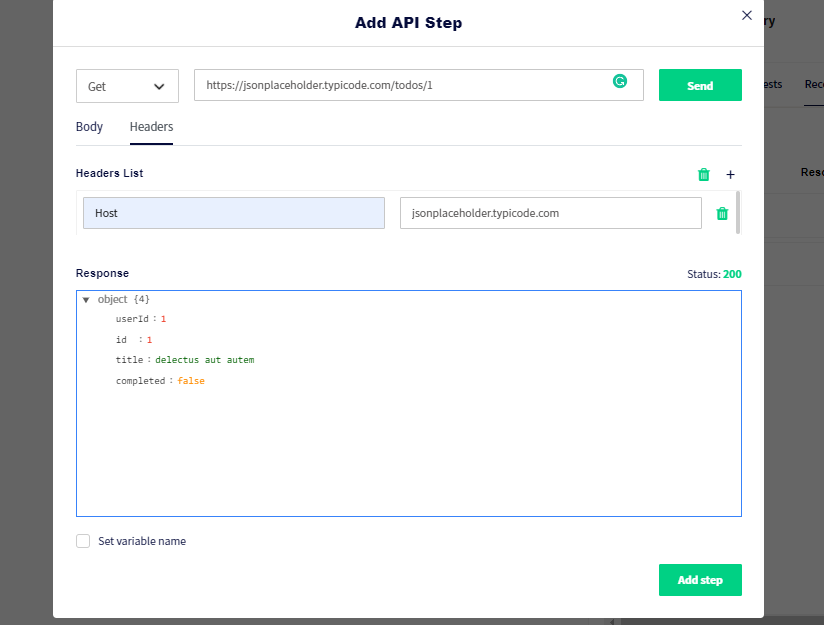 You can also view the status of your request in the top right corner of the 'Response' field along with the response itself. 
Add Return API call step to your test cases
Let's say you're automating your application, and one of your test cases requires you to hit an API in order to complete an action, mimic a user interaction and move on, or even a case in which the API call in return generates a unique key that you need to use in order to move forward with your test case. Here's where Sofy comes in. For normal API calls you can click 'Send' and be done with your day's work and if you intend on using a value from the response, you can proceed to check the 'Set Variable Name' check box at the bottom left of your screen.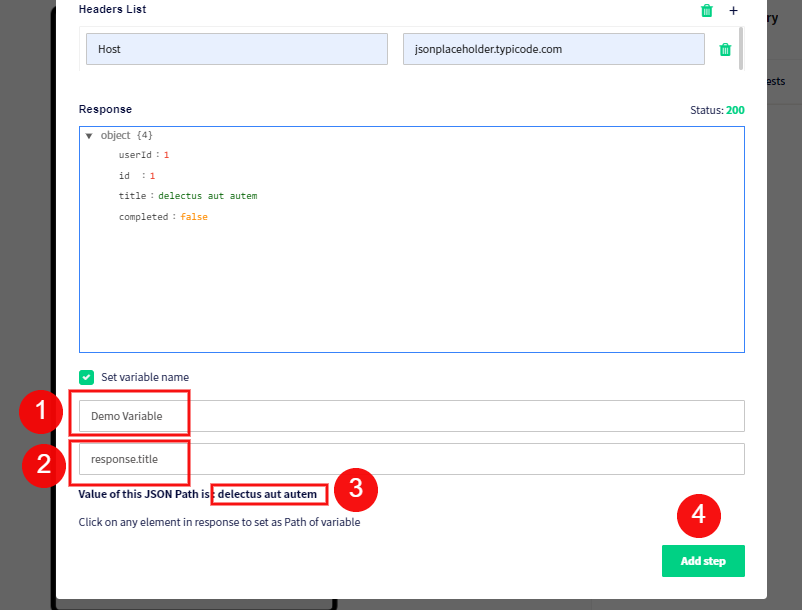 1. You can add in a custom variable need you can identity later on and a variable you can store your API response in. 
2. You can enter the JSON path yourself or let Sofy take care of it for you by simply clicking on any one of the key pairs or the object itself.
3. Once you enter your response or click on any one of the pairs in the response the value will be fetched for you to preview before you utilize it within one of your scenarios. 
4. Once you're done you can proceed to click on the 'Add Step' button. Upon clicking this button Sofy is going to store the value associated with the path into the variable named 'Demo Variable' which can then be utilized anywhere in your test case recording. 
Upon playback, Sofy will dynamically hit this API again and store the updated value (If any) and utilize that during the recording process. 
-------------------------------------------------------------------------------------------------------
v 3.0.0.0023
Sep 03, 2021, 2:32 PM PST 
Enhanced test run reporting  
We've updated our reporting for both manual and automated tests with a clear report dashboard that includes step-by-step screens, detailed logs, environment details, crash data, and steps to reproduce. You can skip the hassle of manually recording all this data and save time and effort for triage teams and engineers.   
You can find the new reports by choosing either 'Manual' or 'No Code Automation' from the menu bar on the left, select 'Test Runs' and you will see a high-level view of all the runs. Then, click on whichever test run you would like to generate a report for.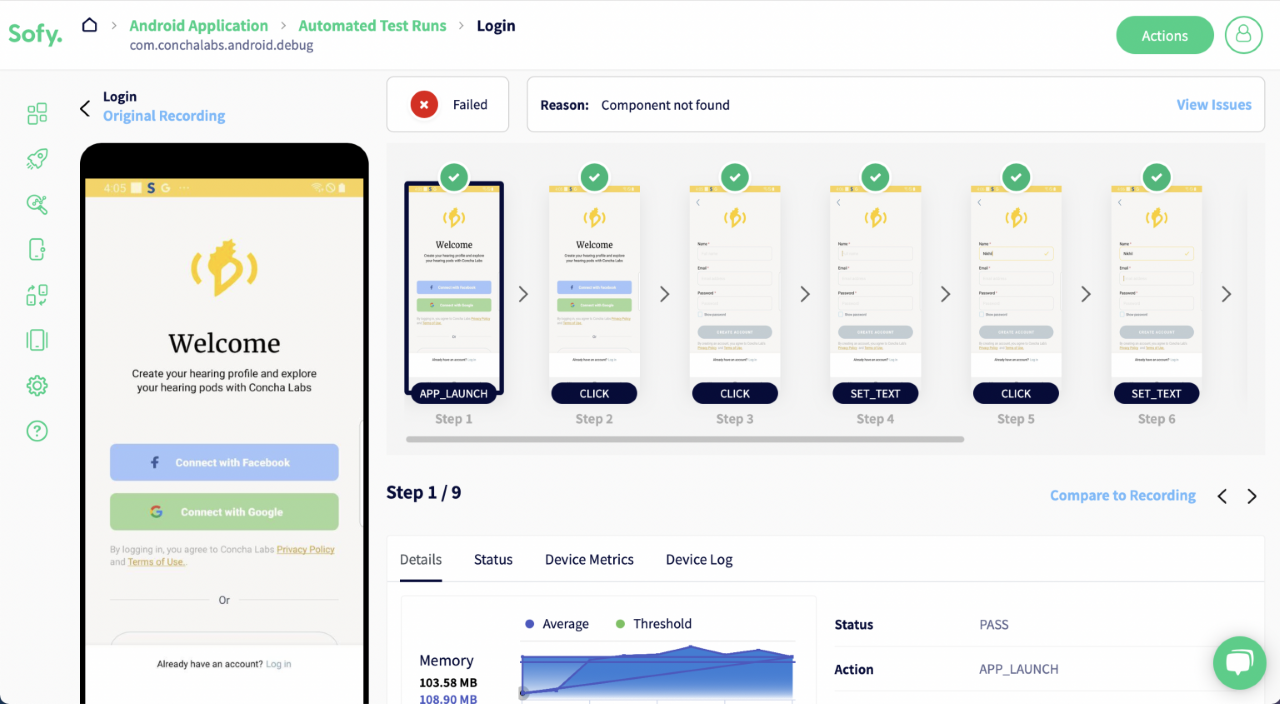 Improved single-click bug reporting 
The report issue interface is slightly redesigned. Send a bug report to Jira directly from the new test report.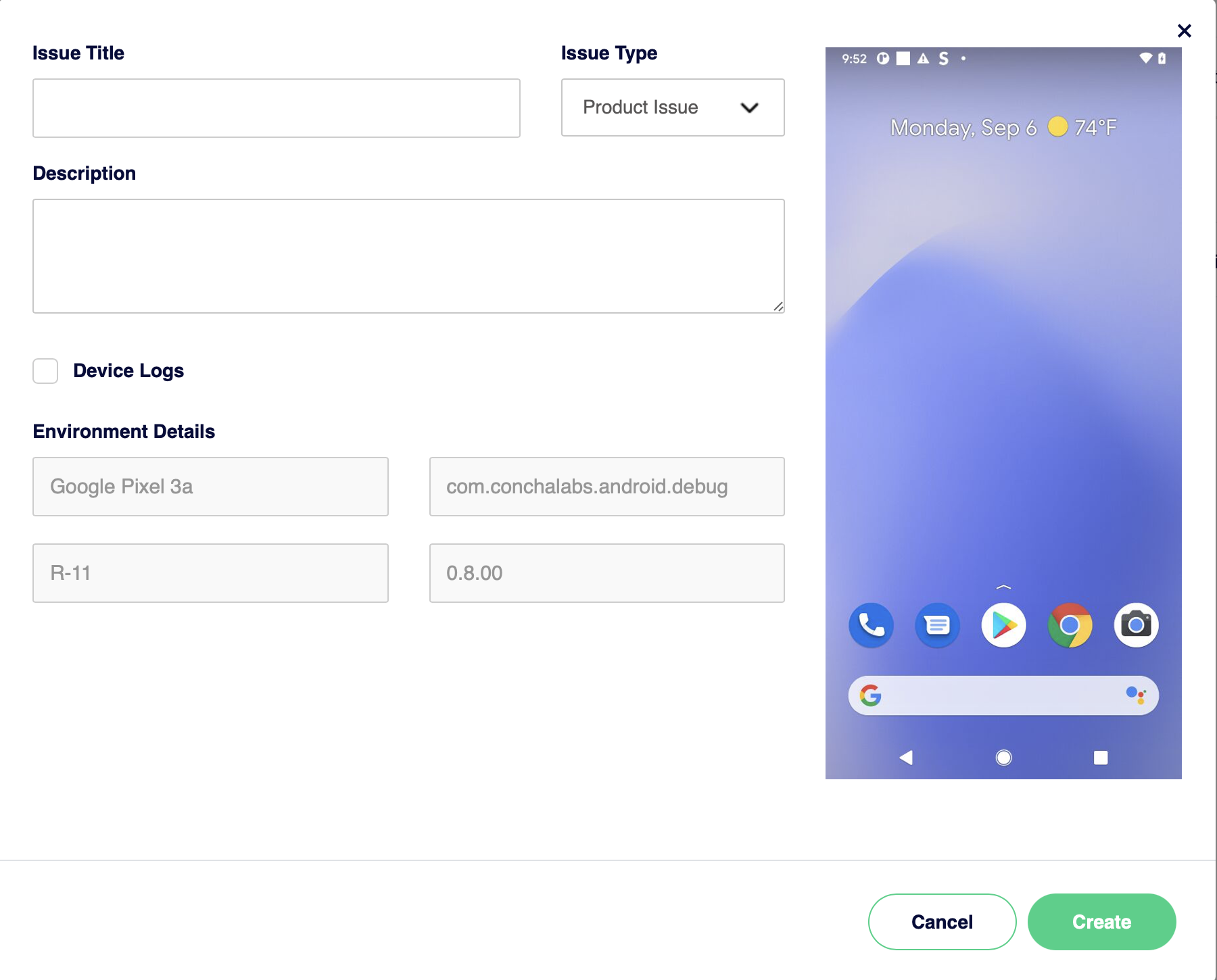 New dedicated menu for scheduled runs 
It is now even easier to manage your scheduled runs. You can see and edit your scheduled runs from a dedicated menu page. Navigate to the page by clicking the 'Scheduled Runs' button under No-Code Automation tab on the left side navigation. From there you can see details of all upcoming runs and edit, change, or delete a scheduled run. You can also view information for all the runs in a series on the new series report.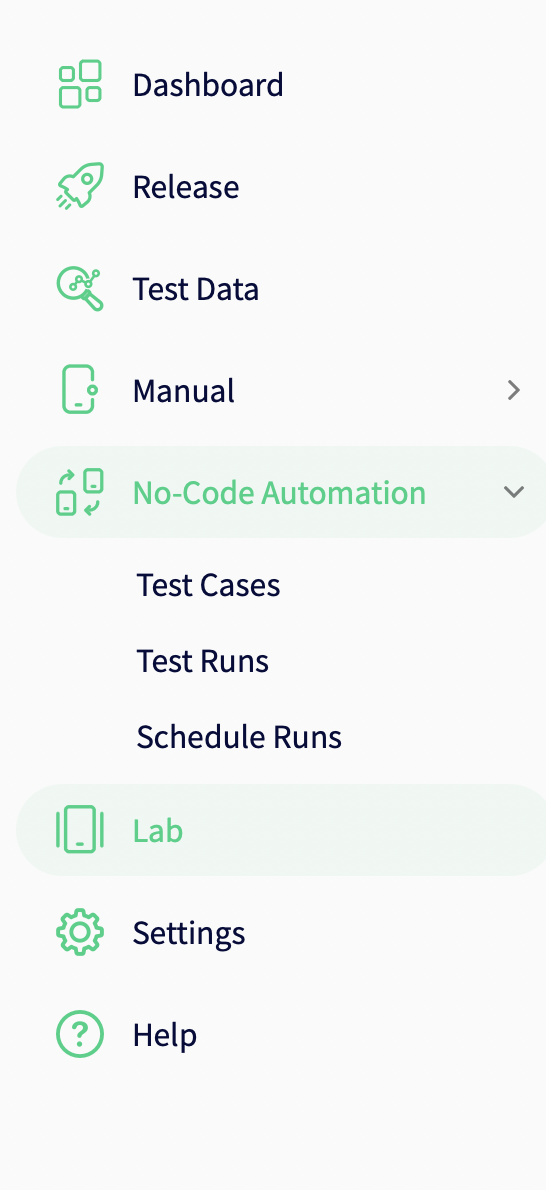 Fixes 
Faster record and playback on iOS  
iOS users can now test up to four times faster with our updated, no-lag, record and playback. We have optimized the backend processes and prioritization of threads so you can take actions in the device lab in real-time.  
Backend performance improvement  
We are constantly tweaking our service to give you the best experience possible. 
-------------------------------------------------------------------------------------------------------
v 3.0.0.0022
Aug 08, 2021, 3:35 PM PST 
Schedule Test Runs 
Announcing one of the most requested feature: Scheduling Test runs. One of the most important use cases of automation is the ability to run tests on demand or during a schedule time at a regular frequency. Most developers and testers want to schedule the automated tests on a Daily, or Weekly basis. Previously you could only run automated tests on demand, and with this release we are adding the ability to schedule test at any given time on a Daily, or Weekly frequency. As an example, you make sure that your app's critical features such as login/logout are working on the production app, but scheduling login/logout test every day at a specific time. It couldn't be simpler- just create an automated test and let Sofy run it whenever you choose.  You can schedule a one-off test or have it run every day.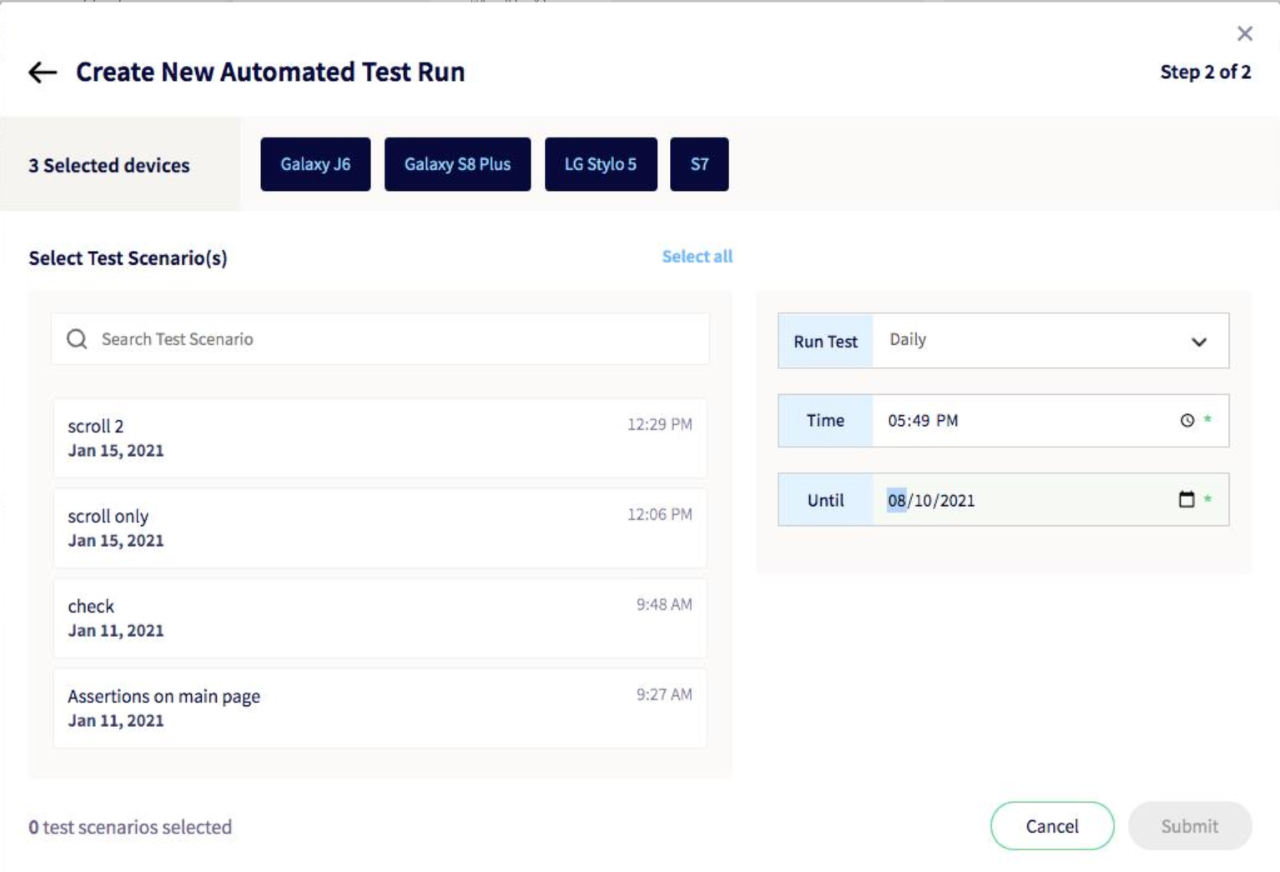 We also revamped the ability to run tests on demand and schedule them. Try it out. Simply select on the 'Test Runs' menu and click on New Test Run.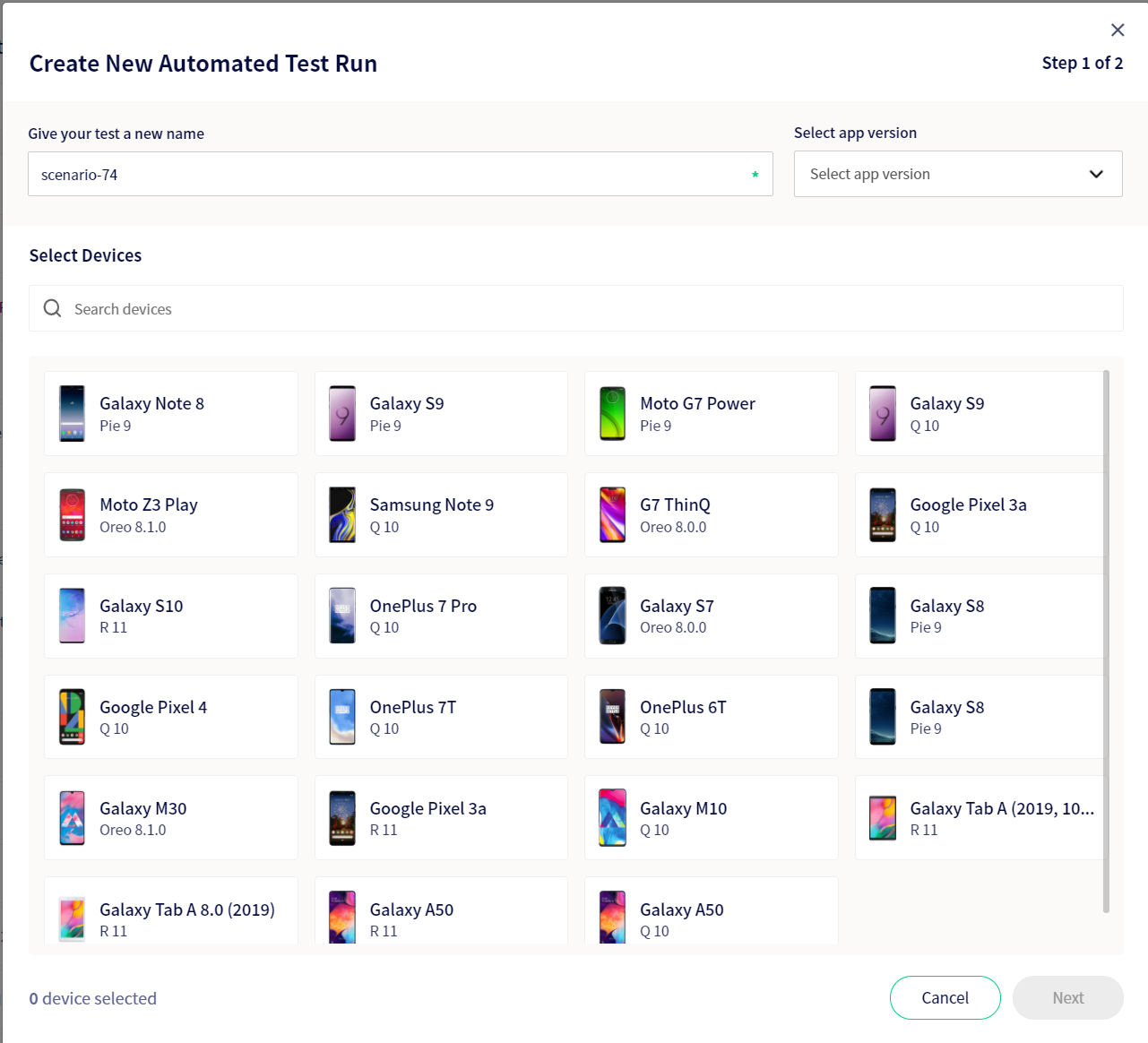 So many more Integrations  
Sofy's vision is to make QA Testing part of the overall DevOps pipeline for developers. We are constantly striving to integrate Sofy seamlessly into your development infrastructure. To that end, we are excited to announce a host of new integration options in our latest release. You can now upload builds from all of the CI/CD platforms below. Read specific documentation to start automatically uploading builds from your CI/CD: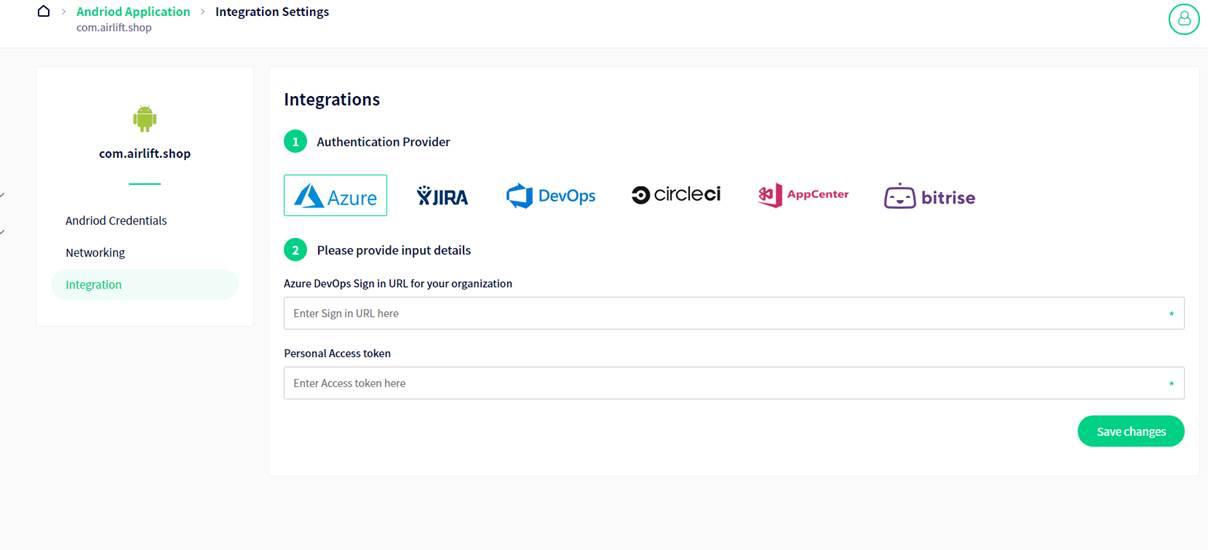 Clean up Toggle 
Users now have the option to retain cached data between tests (and avoid having to "log in" in every test) to save steps and time. Of course, for users who prefer a fresh execution every time the option to install a fresh application for each run remains.  You can toggle between the options on the very bottom of the device pane to the right of the device.  
If you want to retain application cache between test runs, and if your app retains logins across sessions, you can leverage this capability to optimize your automated test runs. It also has the side effect of speeding up the time to execute tests.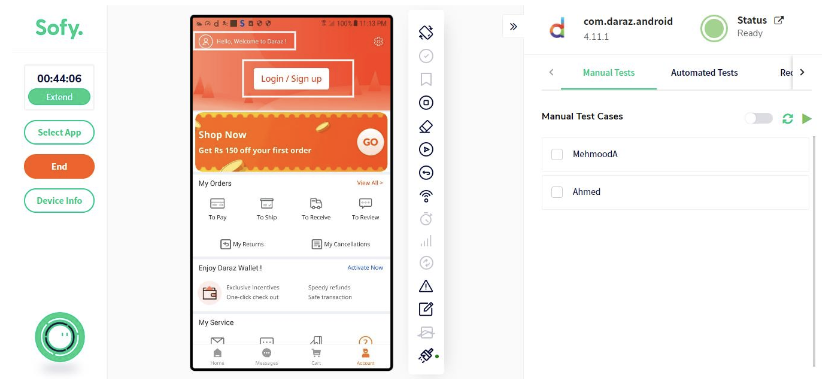 Update to Automated Test Runs   
We made an update to the way an automated test is terminated.  Previously, the test used to run all the steps even if a step failed. Now when an automated test fails a step, the system stops and fails the test immediately to save time and avoid confusion.   
Miscellaneous UI Updates 
Some small tweaks to our language make Sofy even more easy to use and intuitive.  
---
---